Select the Manage Slot Types option from the catalog section.
The Pathfinder local database comes preloaded with a large collection of supported slots. You can edit the list by adding more information to the already existing slots, by creating new slots or by deleting existing slots. You can also import more slots from the online catalog. Slots currently in use cannot be deleted or edited.
---
Manage Slot Types
To maintain hierarchical structures, some components in Pathfinder contain slots. Other component modules can be built into these slots with a user defined grade of nesting. In order to integrate a module with ports into a slot of a component, the module needs to be compatible with the component slot role.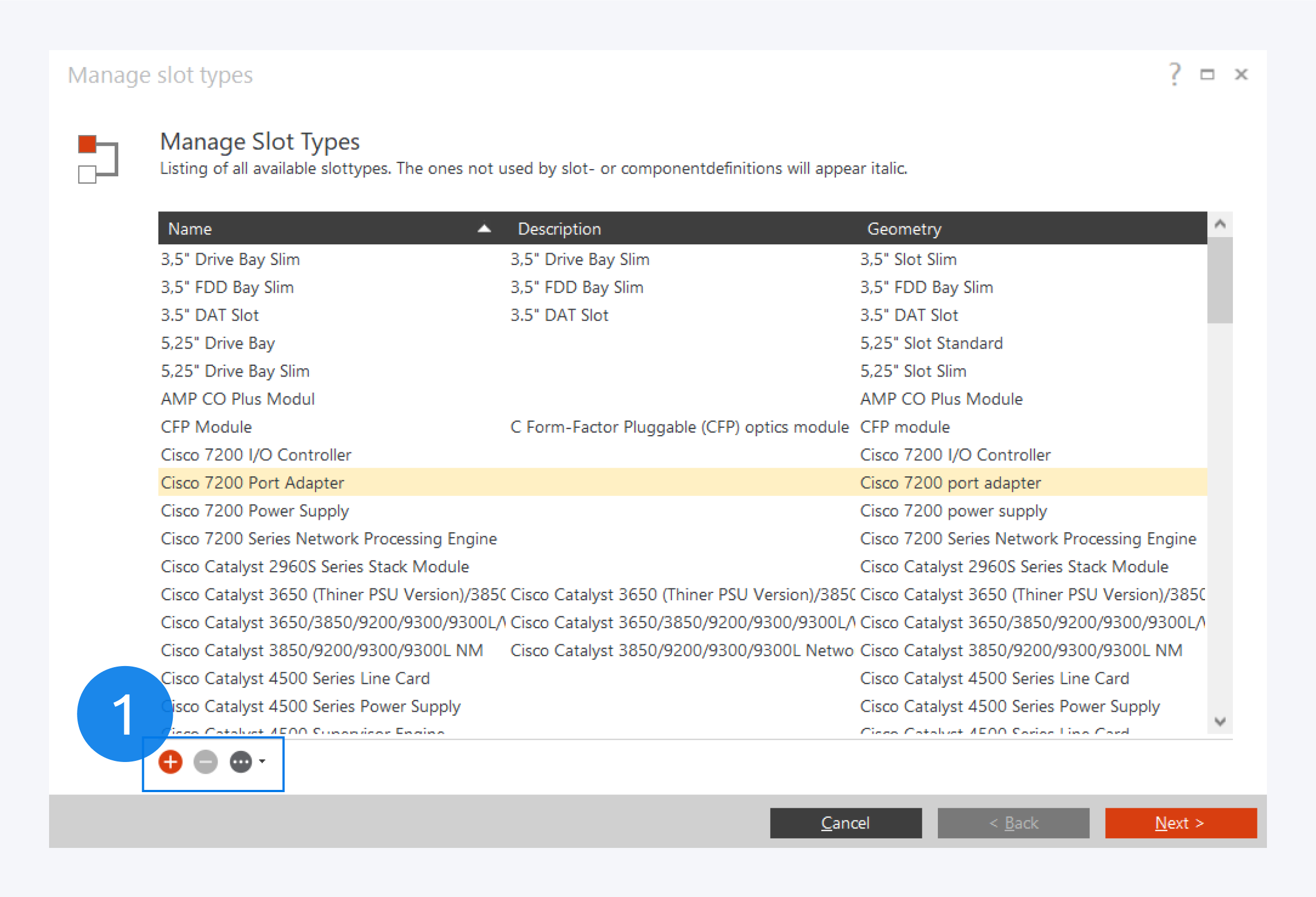 Examples for hierarchical connections between components, slot types and modules are:
switch → SFP

server → power supply

core switch → line cards → SFP
Using the respective icons you can add new slot types, delete exiting slot types and import slot types from the online catalog (1). To edit an existing slot type, double click on it or select the slot type and click Next. Right click on a slot type and select the action from the context menu to display all component definitions using that slot type.
Slot types currently in use with any component definitions will appear in italics.
Importing pre-defined slot types from the online catalog makes your network documentation easier. Please use the online catalog to avoid inconsistencies and data duplication.
---
Create Slot Types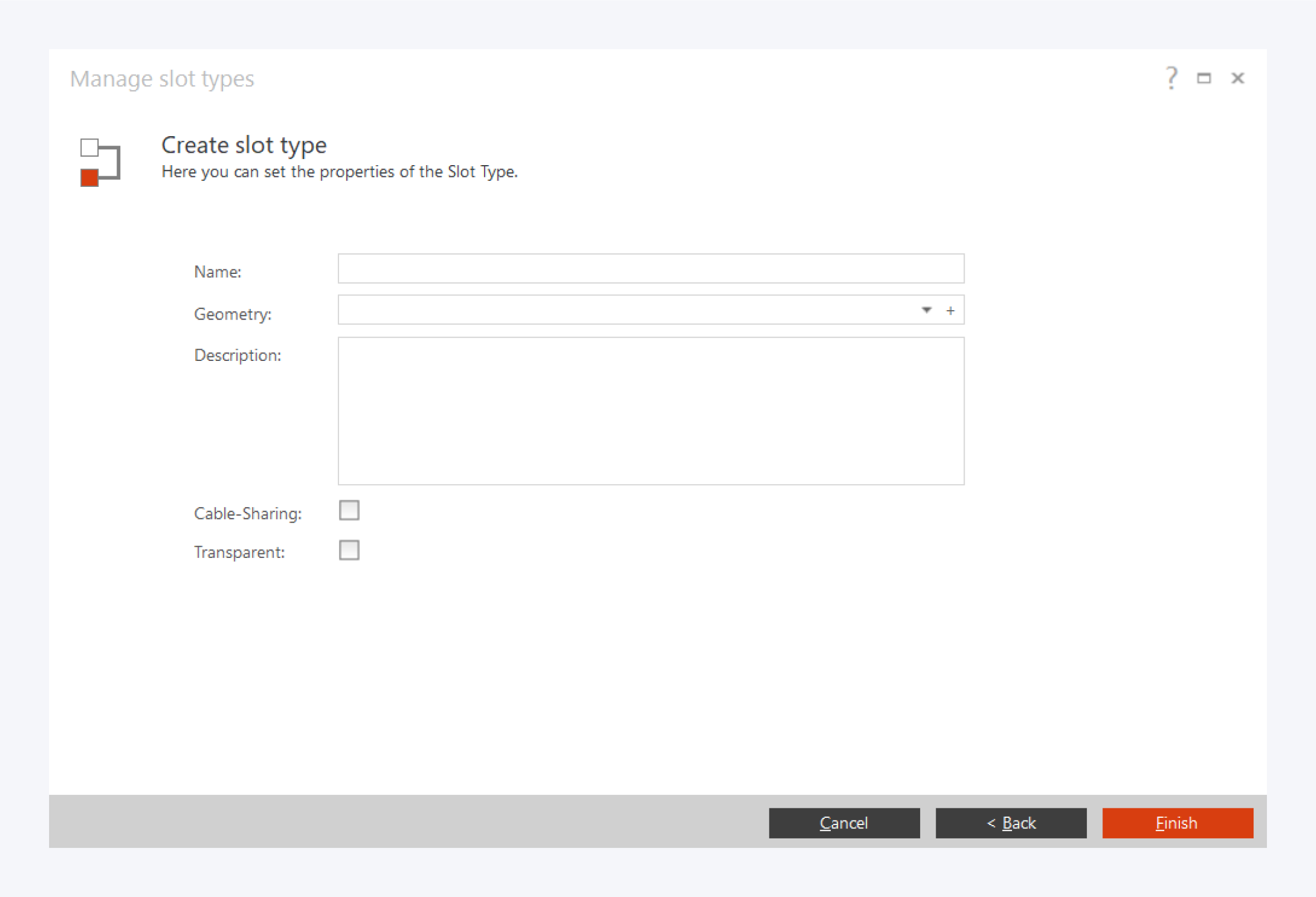 To create a new slot type, fill in the following information:
Name: Assign a name to your slot type.

Geometry: Create a slot geometry or assign an pre-exiting geometry. For more information about creating slot geometry, go to: Manage Component Geometries.

Description: Write a short description about your slot type.

Cable-Sharing: Select whether your slot is allowed to accommodate multiple cable connections or not.

Transparent: For sfp, sfp+, qsfp and gbic modules. Tick this box to display slot modules as ports.
Click on Finish to complete creating your new slot type.
Editing and creating a slot type is done in similar ways. Before creating new slot types, please check, if they already exist.
---
Import Slot Types
New slot types can be imported from the online catalog.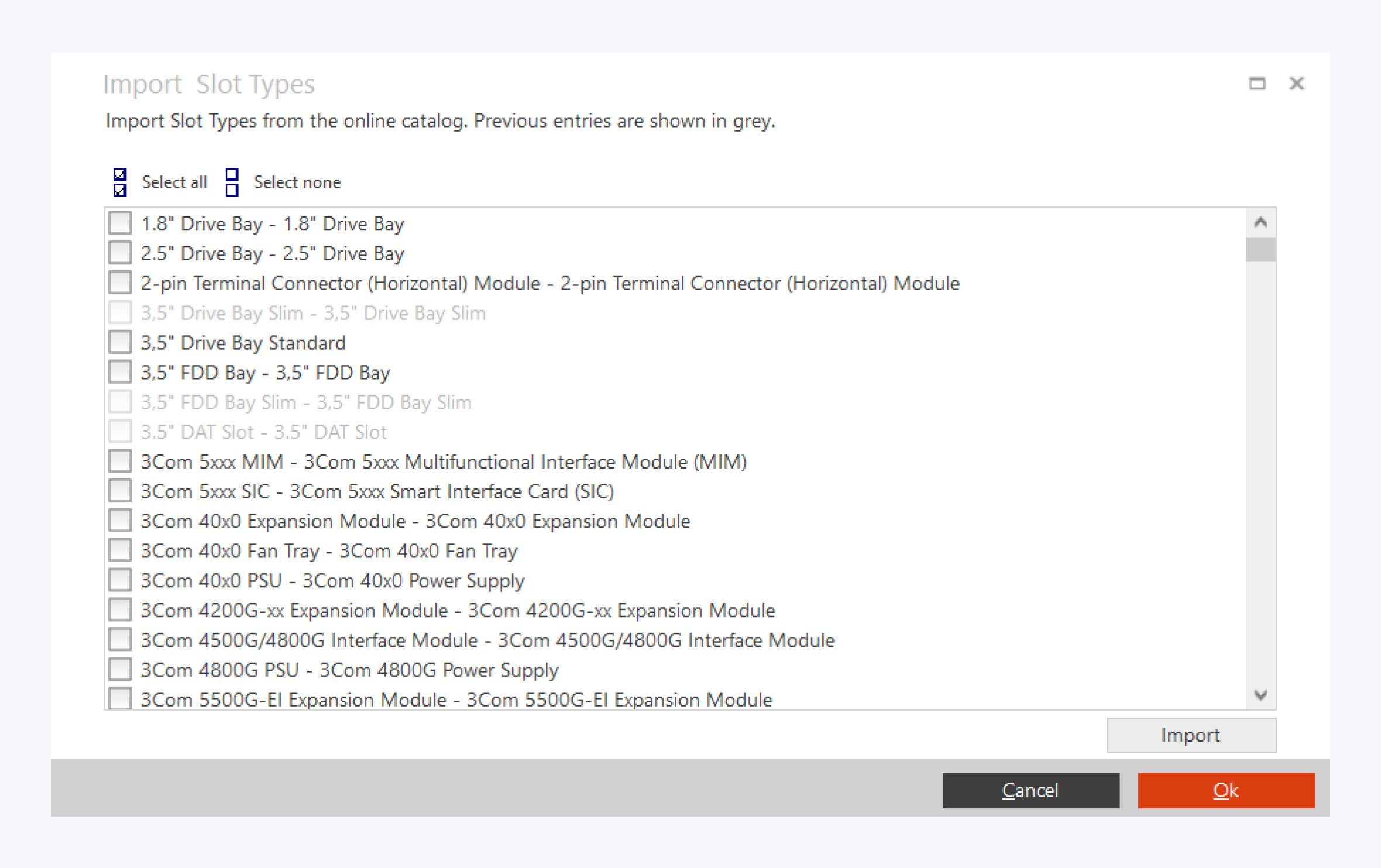 Select the slot types you need and click on Import.
Slot types already existing in your local catalog will appear greyed out.
Once the importing is complete, the slot type list is updated.
Click on Import to import the selected slot types into your local catalog.