Port Information and Cable Color
A lot of port specific information can be viewed by hovering over it. Also ports are color coded for a quick and easy overview at first glance.
Cables are colored based on their cable definition. You can change the templates color and all instances will be affected.
---
Port Hints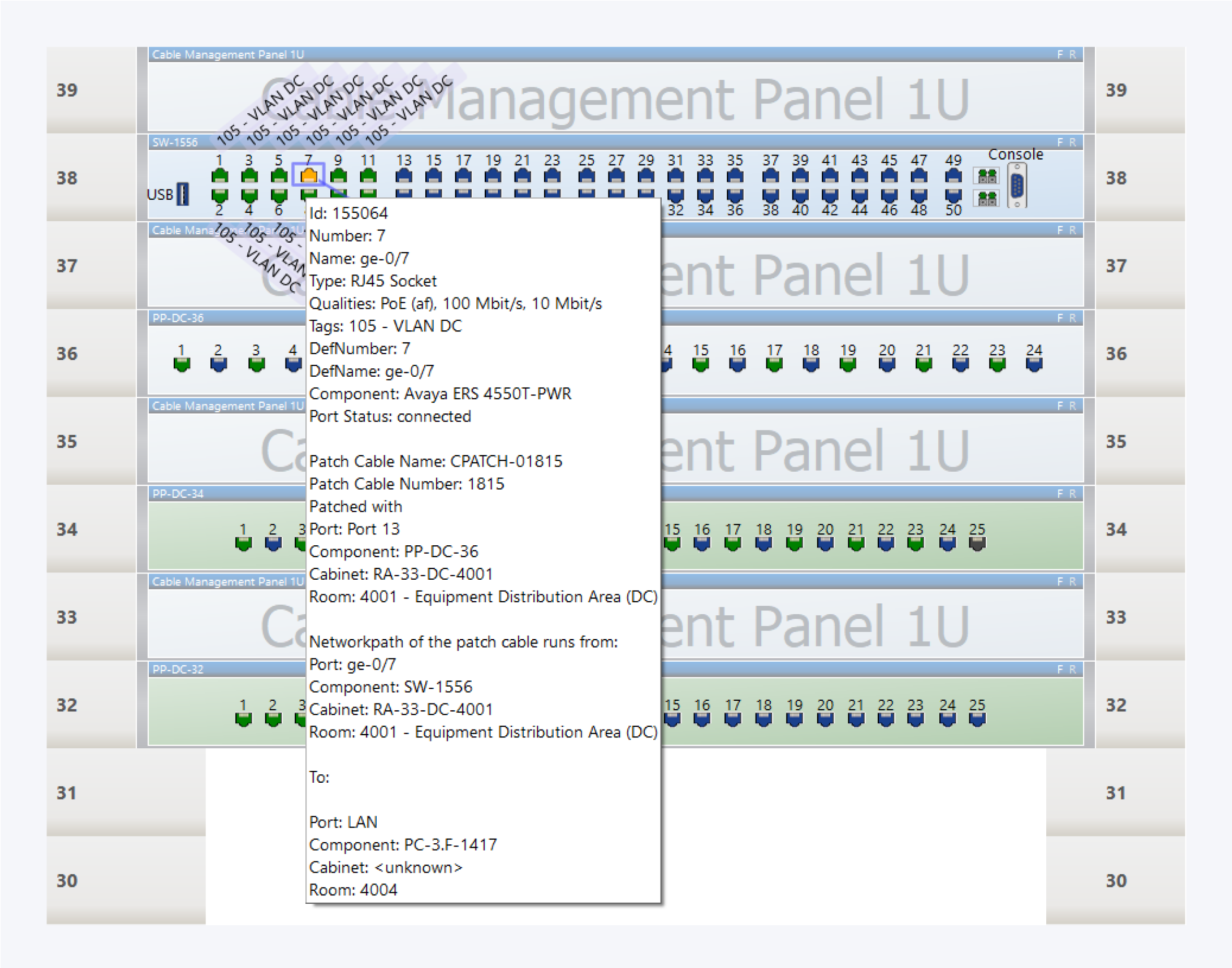 In front view hover over a port to view a hint with the most important information.
The port hint includes port relevant information such as ID, name and number as well as port type and port qualities.

The port hint also provides information about the port status (both front and back for patch panels). The port status is also reflected by the port color.
Finally, the port hint provides the network path of the cable if connected.
---
Port State Color

Pathfinder uses a color code to visualize the port status.
The colors indicate the port status as follows:
1: Only the opposite side is connected.
2: The port is defective.
3: The port is idle.
4: The port is reserved for a connection.
5: Only the front port is connected.
6: Both the front and back ports are connected with an installation and patch cable respectively.
7: The Port is Disabled
---
Color code standards for fiber optic cables
Pathfinder follows the following standards for the default color codes of fiber cables:
| Fiber No. | Color Code | SWI | DIN | ISO | IEC | TIA/EIA-598 |
| --- | --- | --- | --- | --- | --- | --- |
| 1 | RD | red | red | blue | blue | blue |
| 2 | GN | green | green | orange | yellow | orange |
| 3 | YE | yellow | blue | green | red | green |
| 4 | BL | blue | yellow | red | white | brown |
| 5 | WH | white | white | grey | green | grey |
| 6 | VI | violet | grey | yellow | violet | white |
| 7 | OR | orange | brown | brown | orange | red |
| 8 | BK | black | violet | violet | grey | black |
| 9 | GY | grey | turquoise | white | turquoise | yellow |
| 10 | BN | brown | black | black | black | violet |
| 11 | PK | pink | orange | pink | brown | pink |
| 12 | TQ | turquoise | pink | turquoise | pink | turquoise |
---
Color code standards for ethernet patch cables
| | | |
| --- | --- | --- |
| Fiber Name | Core/Fiber Diameter | TIA/EIA-598 |
| SM-OS2 | 9/125 µm | yellow |
| MM-OM1 | 62.5/125 µm | orange |
| MM-OM2 | 50/125 µm | orange |
| MM-OM3 | 50/125 µm | turquoise |
| MM-OM4 | 50/125 µm | magenta |
| MM-OM5 | 50/125 µm | lime |